Ryan Reece's selected publications
Here you will find lists of my selected publications.
Blog posts
I'm trying to blog at statisticalsignificance.net
Some pedagogical notes
CV and Thesis
Curriculum Vitae
First, note that you can get my CV here: html, pdf.
Ph.D. thesis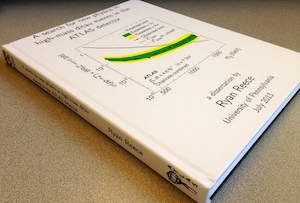 A search for new physics in high-mass ditau events in the ATLAS detector
July 2013
My graduate research as a student at the University of Pennsylvania, working with the ATLAS experiment at the Large Hadron Collider at CERN, was on the reconstruction and identification of hadronic tau decays, measuring the SM Z→ττ production cross section in proton-proton collisions at √s = 7 TeV, and searching for new physics in high-mass ditau events. You can download my thesis here or find it at CDS as CERN-THESIS-2013-075.
ATLAS Publications
The above is a selected list of ATLAS publications for which I made substantial contributions. I am also an author of several publications (more than 700 as of April 2018) because of my affiliation with ATLAS as a qualified author since June 1, 2008. See my INSPIRE-HEP profile for a more complete count of ATLAS publications: https://inspirehep.net/author/profile/R.Reece.1.
Included among these publications is the discovery of the Higgs boson:
ATLAS Conference Notes / Proceedings / Other Public Documents
ATLAS Internal Notes
You won't have access to these unless you are a member of ATLAS.
---
Site navigation: